I've created many works of Wearable Art. Eight of them were finalists in the WOW World of Wearable Art show held in Wellington. Most of them were displayed in the WOW Museum in Nelson. Sadly this closed during Covid.
2018 – Minerva Maxima
Minerva Maxima – Victorious warrior, savvy strategist, talented creative – wise deity of arts and science.
Created from a multitude of masquerade masks, both lace and metal. The iridescent tones of blue and teal are alive with sparkle – although this is hard to see.
2016 – Imperiana
Imperiana – Bold, audacious, controlled and lustrous, a coquette fit for an ornate palace!
Created using metal panels and frames, boning and fans, painted in iridescent tones.
2014 – Visibility Wizardress
Visibility Wizardress – A composition of magical vision and reflection.
Created using spectacles, mirror tiles, elastic and trim.
2013 – Budding Beauty
Budding Beauty – A feast of fronds, up down and all around.
Created from earbuds, plastic strapping, mesh.
This garment was a collaboration with my wonderful friend and creative Sarah Jayne Kavali.
2012 – Green Green Grass
Green Green Grass – Elegant structure, natural tones, simple materials, green and clean – reflections of New Zealand.
Created using flax placemats, elastic, feather, beads.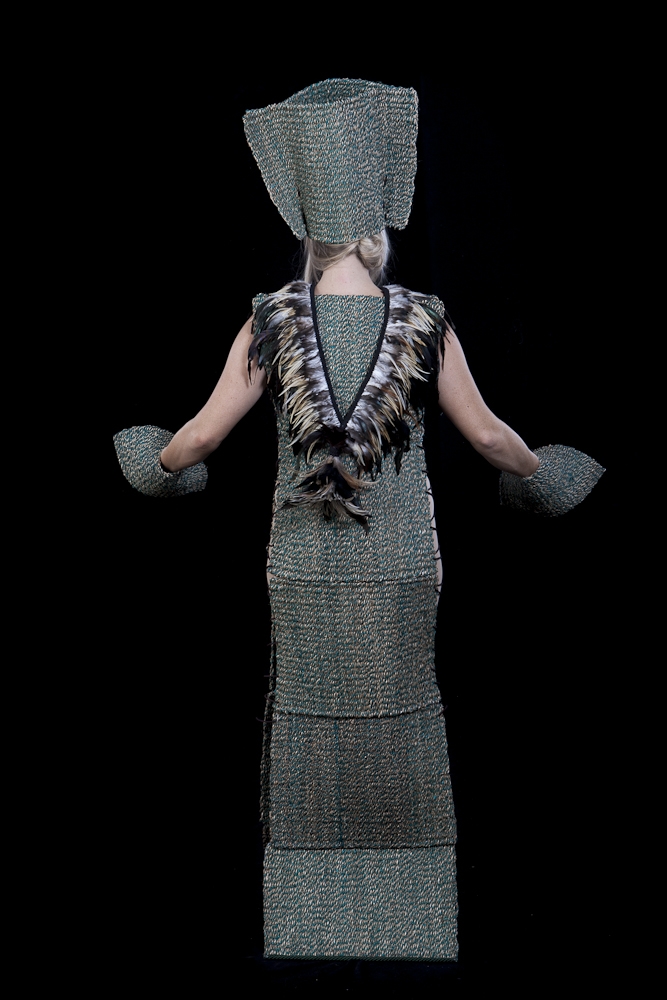 2012 – Mexi-Kahlo
Mexi-Kahlo – A study in reverse chromatology – Frida Kahlo's style and finesse showcased in monochrome.
Created using lace, felt, beading. This garment was in the Illumination section and appeared on stage under blacklight.
2011 – Vivaldi's Muse
Vivaldi's Muse – A Venetian Priestess, wrapped in iridescence and tradition, inspires a musical maestro.
Created using canvas, mannequin torsos, wire, silicone.
2011 – Hayfever Gone Haywire
Hayfever Gone Haywire – Simple yet complex – unseen yet everywhere – pollen bursts forth to create new flora … and sneezes!
Created using foam packaging, polystyrene, wire, paint. This garment was in the Illumination Section under blacklight – although I entered it in the Microscope section, hence its "hayfever" theme.